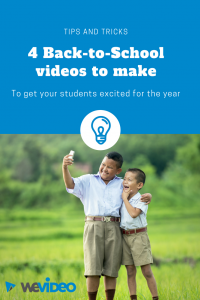 Teachers! It's the beginning of the school year. Most of us are busy setting the foundational aspects of our classroom to survive the trials and triumphs of discovery, failure and learning that will take place over the year.
This includes setting classroom expectations, building excitement for the learning that will happen, letting students get to know you and each other, and setting up the scaffolding for a fun, engaging, creative, supportive and rigorous classroom environment.
This is the year to reach students through video. Video empowers students to learn more deeply by combining multiple elements: speech, images, text and sound. Through video, students can easily demonstrate what they've learned, collaborate with one another and express themselves creatively and authentically. Need help getting started? Here are four types of back-to-school videos you can create:
Idea 1: Set classroom expectations in a fun, unique way
We all know how important it is to set expectations in order to create an effective, inclusive classroom experience throughout the year. This year, try setting classroom expectations in a fun way!
Check out this video from educators Tracy Stegall and Christina McCann, where they send a message from the "future" to their 6th graders explaining how to take care of their computers. But the bigger message is even more impactful: the possibilities and dreams of what the students will be like in the future, and what their district's new 1:Web initiative hopes to achieve. Christina, the 1:Web coordinator, said, "I was surprised to hear the students spontaneously clap at the end of each video." What better way to captivate your class from the start?
https://www.youtube.com/watch?v=FMWR1EObYgA
What you'll need to make a video like this:
Know the purpose of the message you want to share

Storyboard it!

A green green (green wall, green sheet, green butcher paper)

Backgrounds (check out the WeVideo Essentials library, complete with royalty-free images, video clips and audio tracks)

Add any other interesting graphics (the camera overlay in the video above and other effects were completed using WeVideo)
Idea 2: Get creative with learning goals
What better way to introduce learning goals than to do it in a way that piques a student's interest and curiosity? This book talk by Andy Jacks got his students excited about this book, especially because two wily students made him "shrink" and stole away with him in a book. Clever!
https://www.youtube.com/watch?v=Go8szYsrmu4
What you'll need to make a video like this:
Two student accomplices

A green background AND floor (tip: use a long sheet of fabric or paper that drapes from wall to flow)

WeVideo's animation tool (to "shrink" a teacher)
Idea 3: Give students a peek into your daily life
Remember that feeling when you saw your teacher at the grocery store? It was kind of strange, but exhilarating, right? I remember how my students searched the deep crevices of the internet to find YouTube videos of me. Students are so curious about their teachers, and letting them get to know who you are as a person, not just a teacher, can help build those relationships. Why not let them peek into our lives outside of the classroom?
Here's how to make a video that taps into what students are already watching on their own. "Routine videos" are SO popular on YouTube these days. Routine videos, as the name suggests, show some sort of routine: "my morning routine" or "my bedtime routine", for example. You can even create a "back to school routine"!
Here's one we found on YouTube by @my2ndgradelife. This one seems like the audience is more for fellow teachers, so consider your students as the audience when you storyboard your own routine.
https://www.youtube.com/watch?v=yPileHxug44
What you'll need to make a back to school routine video:
Think about what your students would love to know about you

Film it!

Cut out the parts you don't want

Add some text

Add music (you could pick from WeVideo Essentials Library, chock full of music tracks and sound effects)
Idea 4: Let last year's class provide words of wisdom
This idea requires some backwards planning, so keep this one in mind for next year, too! This is a great idea from educator Christy Ireland of Buckingham Charter Magnet High School. She had her students create an "advice video" for incoming students. What a wonderful way for past students to reflect on how they've grown, and pass along their knowledge to the incoming class!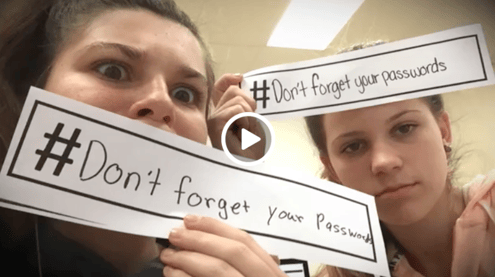 What you'll need to make an advice video from a graduating class:
Have students reflect on the things that helped them be successful in your class

Provide a platform for them to jot down these idea, like these "#_____" papers

Have students film, write or take a picture of their piece of advice

Enlist some students to help put it all together

Add some fun transitions from WeVideo
Do you have more ideas? Want to share what you create? Post it in the comments below or show us on Twitter, Facebook and Instagram (@WeVideo).