Teacher resources » Reflect and connect
Overview:
Reflection deepens understanding and creates connections to student learning across contexts and fosters higher level thinking skills. In this simple activity, students create a video to reflect on a learning moment.
These reflections can happen as part of an assessment portfolio, as part of a showcase at the conclusion of a unit project or inquiry based project, or simply as an ongoing, informal check for understanding. This activity integrates into any age and grade and helps make student thinking and learning visible throughout their learning process.
Keywords: Getting Started, Reflection, Assessment
Good for: Individual work, teams, first video projects
Grade level: K-12
Skill Level: Beginner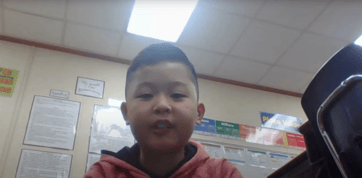 Student Instructions
Copy and paste the information below directly into the description box when creating your student assignment, or, use it as inspiration to make your own!
Using a webcam recording or a screencast, create a video that reflects your understanding of our [lesson, activity, project, or assessment] in a creative way. Before you begin:
Think about the purpose of the video: what am I going to share about what I learned?
For your video start by introducing yourself, then, state your purpose - why am I making this video.
Then, share your thinking or your understanding of what you learned.
After you have finished, go back and listen to your reflection. Record again if you need to!
Drop your video into the editing timeline and submit your assignment.
Other resources
Some example question stems for reflection: