It is safe to say that most of us have either sold or purchased a property once in our lives. Real estate listings have a common look: a few images of the property, the information of the property and the contact details for the listing agent. The truth is that when a buyer is looking for a new property they are hoping to visually see what they've already envisioned in their mind and, although photos can give them an insight to what the property looks like only a video is much better suited to make them imagine themselves in the property.
Video improves listing visibility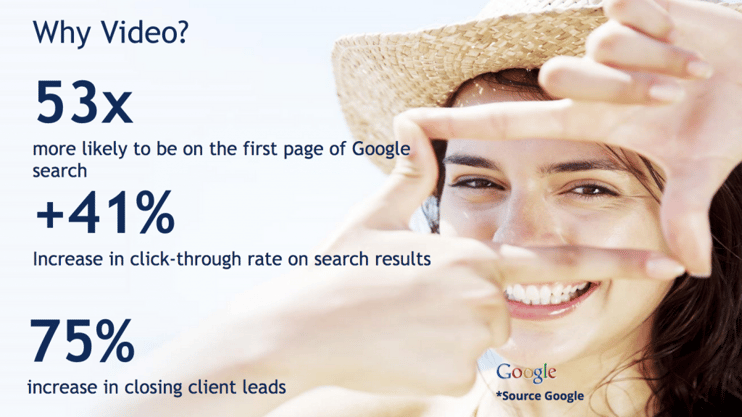 Search engines look for videos in listings and rank these higher in the list, thus improving the chances of it being seen by more people searching organically for a listing. It is also more likely than people will want to see more information on the listing after seeing the video in the search results. Ultimately this is leading to much higher conversions of leads.
What types of videos are customers looking for?
[x_video_embed no_container="true"] [/x_video_embed]
One of the biggest factors in choosing a house or property is its surroundings. A community video allows customers to see what kind of amenities are around them (like public transportation and restaurants) it also lets them have a feel for the neighborhood and the community the'll be joining if they were to purchase the house. That is why 86% want to see a community video.
Customers want to see the best features of the house before even stepping foot in it, that is why 70% want a tour of the property. This will allow them to quickly evaluate if this is the property they are looking for.
Helping customers feel at ease when buying or selling a house is key. Selling or purchasing a property is one of the biggest things a person does in a lifetime so by providing these tools you'll be able to ease their fears. 54% of customers would appreciate finding a how-to video on your website when first visiting.
As with any other service, a testimonial gives you an insight on the person or company you are dealing with. It also helps customers evaluate the agent before setting us an interview with them. 30% of customers are looking for review or testimonial videos.
Along with the testimonial videos 25% of customers want to see a video of the agent or listing company that would give them more information on who they are and why are they qualified.
Obstacles agents face with video today
Video is perceived as a difficult skill to master that requires a long time to produce. It is also linked to expensive price tags ( you'll at least need a good camera, right?). And even if you do have the time and tools the software to edit the videos tends to be either too complex or automated, leaving the agents with similar-looking videos.
The truth is that most of us already carry a "good" camera with us everyday in our mobile phones. The best camera is the one you have with you and, with the limited time agents already have it is best to take advantage of the resources in hand and the immediacy of capturing footage with the tools you have on hand.
How do I get started with video?
Here are some techniques you can follow to capture basic footage with your phone and create a listing video:
[x_video_embed no_container="true"] [/x_video_embed]
How do I implement video as part of our sales strategy?
WeVideo for Real estate was designed with the specific needs of agents in mind. With tools like:
Customized Themes to ensure brand control
Cloud solution with web and mobile apps
Call to action in all videos
Team collaboration in a common workspace
[x_video_embed no_container="true"] [/x_video_embed]

WeVideo is your one-stop solution for real estate marketing videos. Our tool is customizable and it allows you to take control of the video process by managing and monitoring the collaborative process.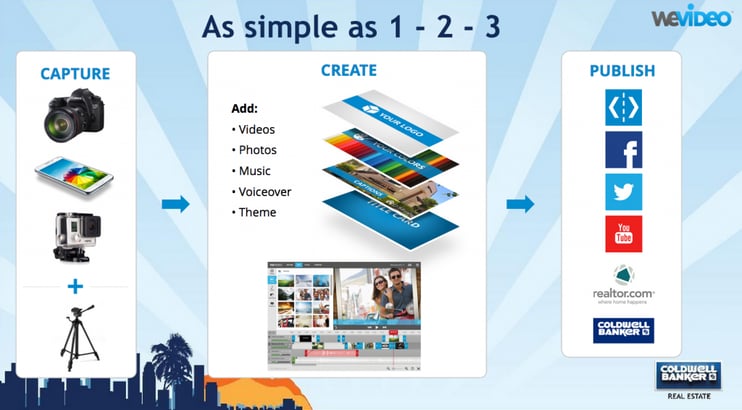 If you need additional help, visit our WeVideo Academy to find tutorials and tips on how to get started.
[hs_action]