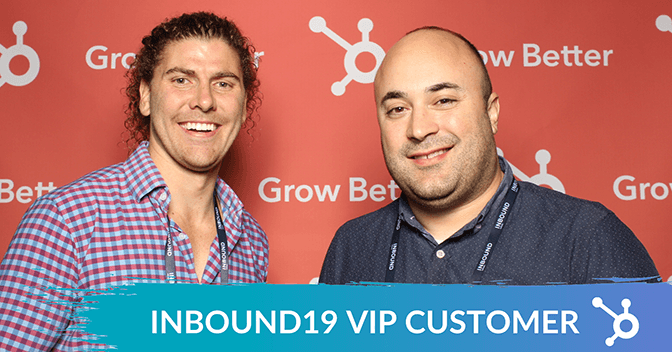 Hubspot's Inbound 2019 conference in Boston was a whirlwind of marketing trends, valuable insights and fantastic speakers. This was Hubspot's eighth year hosting the event, and participation was larger than ever. With over 26,000 attendees (and more WiFi bandwidth used in a day than any Super Bowl ever), Hubspot confirmed that marketing is developing at lightning speed and brands are eager to stay at the forefront of this evolution. After hearing from the likes of Hubspot's Chief Executive Officer, Brian Halligan, Hubspot's Chief Technology Officer, Dharmesh Shah, and co-founder of Reddit, Alexis Ohanian, as well as dozens of other thought leaders, here are some high-level themes and takeaways from Inbound 2019.
How you sell is why you win
In other words, it's no longer what you sell, it's how you sell. Technology has made it easier to connect with anyone, anywhere, anytime. Yet, making a personal connection has never been more difficult, making it an absolute necessity for brands to build trust.
The word "trust" came up in practically every session, but perhaps Jingo Mante, Production Manager of Integrations at Hubspot, summed it up best during her session, "5 Hubspot-built integrations you can use to make your customers smile". Jingo stressed that communication is essential to building trust and that 55% of how we communicate is actually nonverbal. We express so much through nonverbal interactions with one another; particularly our smiles (or lack thereof). This is often why face-to-face meetings, both internally and with customers, are preferred to facilitate important business decisions, for example. However, not every business can rely on in-person meetings alone. That's where video comes in!
Aside from personalized sales and thank you videos that can be made with WeVideo, Hubspot integrations like Wistia and Vidyard make it easy for marketers to get detailed insights, such as when your viewers start and stop watching your video. Jingo reiterated that thumbnails and subtitles are key for optimal video performance. To make your video more personal, she suggested greeting someone by writing their name on a whiteboard and using that as your thumbnail. Video is a great way to begin a customer-brand relationship, and an effective tool to help your company establish trust.
Out with the marketing funnel, in with the flywheel
Introduced last year, and re-emphasized this year, Brian Halligan, CEO of Hubspot, explained that marketing and sales need to incorporate the flywheel mindset in their brand strategy. According to Halligan, the outdated marketing-to-sales funnel didn't place nearly enough (if any) importance on customer retention.
The flywheel approach is different, defined by a customer-centric business model that starts by attracting new leads with social content, blog posts, videos, etc. The engagement flow continues through the customer's sales journey with thorough communication and timely automation. Finally, that momentum is carried along as your business provides quality service to those customers and your overall number of customers increases. Existing customers play a valuable role in helping new leads with their decision process. As consumers, it's second nature to check customer ratings and reviews before committing to a purchase. Here's the key takeaway: if your customers are happy, they'll spread the word.
Measuring customer satisfaction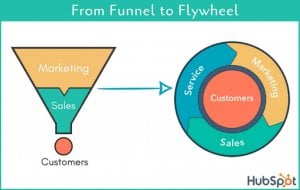 Once an individual goes from lead to customer, the cycle doesn't end there. Casey McGaw, Customer Service Manager at Hubspot, sums it up nicely: "As soon as you get a customer, you need to have a plan in place to keep them." This doesn't mean you need to contact your customers every day to ask how they're doing, but you should have a strategy in place to gauge their satisfaction and keep your churn rate low. The first step is to identify the instances that cause a customer to be dissatisfied or leave.
Generally, customers may walk away if:
Their point of contact at your business changes

They have a bad experience with your product or support team

They start using your product or service less frequently

They find a competitor with a better offering

The pricing of your product or service changes
Keep an eye out for these changes and have triggers in place so you can continue to delight your customers. Whether you implement monthly customer check-ups, set up email automation or send surveys to get net promoter scores, there are plenty of indicators out there… you just need to know where (and when) to look.
All in all, Inbound's key message was that brands need to build trust with their customers and that the process doesn't stop once a customer has paid their first invoice. As Maya Angelou said, "At the end of the day, people won't remember what you said or did, they will remember how you made them feel.''