Social media is one of the biggest reasons why marketers create videos, and the rate of video creation is only increasing. Among many social media influencers who have gone viral with their social content is Gary Vaynerchuk. Vaynerchuk, aka "Gary Vee," is a best-selling author, entrepreneur, motivational speaker, vlogger and social media influencer.
While he boasts an impressive resume, he's most well-known for his social media presence. Dubbed "a master of bite-sized video content" for social channels like Facebook, Twitter, Instagram, LinkedIn and Snapchat, Vaynerchuk has proved that you don't need a studio to produce videos that are highly engaging and frequently copied throughout the industry.
With that in mind, here's how to create a template in WeVideo that you can reuse to make engaging videos for all your social posts.
1. Choose the right format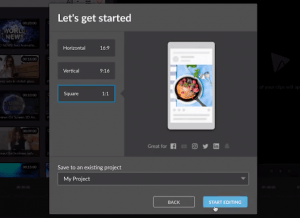 Square and vertical formats are typically the best ones to use for social media channels. Even if you're publishing to Facebook (which allows horizontal), square would be the better format since 70% of millennials don't turn their phones horizontally when watching videos.
To choose your preferred video format in WeVideo, simply select square, vertical or horizontal format when you open your project, then drag your video clip into the video 1 track (see image on the right). Want to publish your video to multiple channels? No problem! WeVideo makes it easy to change your format anytime, so your video is optimized for the appropriate channel.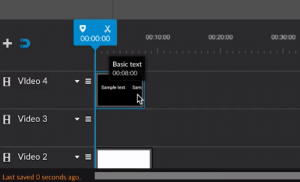 Once you've selected your desired layout, the next step is to create an area at the top and bottom of your video for the title and subtitles. You can do this by going to graphics, selecting your preferred color and dragging each rectangle into video tracks 2 and 3 (see image on the right). Once you've done that, you can scale them down and move them. Since this portion of the video will be static for the entire video, extend the clips to match the length of your video 1 track.
2. Add a title bar to your video template
After you have your video layout sectioned off with room at the top and the bottom, add your title text to the top of the video. Start by selecting the static text option and dragging it to video track 4. Customize the font, text color and size by clicking the clip and selecting the pencil icon (see image below).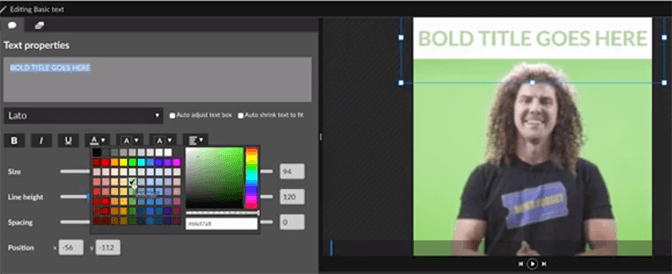 3. Adding subtitles / closed captions to your video
To add subtitles to the bottom of your video, drag a basic static text clip to the video 5 track and begin transcribing your video (see image below). When you've typed about 2 lines of text, cut the clip and then continue transcribing as you go along.
Adding closed captions may require some effort depending on the length of your video, but just know that 85% of videos on Facebook are watched without sound. Keep in mind that videos on social media are primarily viewed on mobile devices, so make sure your text is large and legible.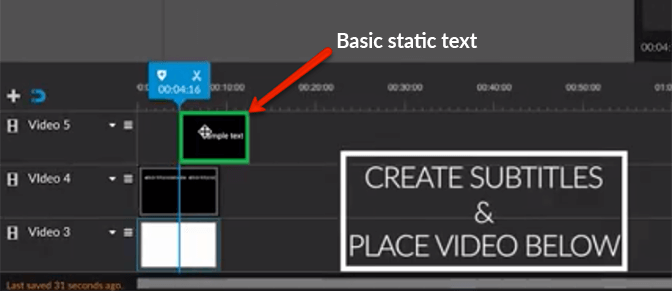 4. Adding a progress bar to your video
The progress bar is a great feature for Instagram videos in particular. Without it, viewers have no idea if the video is 15 seconds or 50 seconds long, and that could make a difference when they're deciding if your video is worth watching.
Start by dragging a red rectangle onto the video 6 track. Then, expand the clip along the timeline so it remains throughout the entire video. Start by scaling and rotating the rectangle so that only a sliver of it is showing. Make sure you're at the very beginning of the video, and then using the animation feature for the rectangle (see image below), hit start when the sliver of red is showing. Click the end button and drag the rectangle across the length of the video so that it covers the entire bottom width of the video. Finally, click Save Changes and preview your work. If done correctly, the red progress bar should advance at the same pace as the video.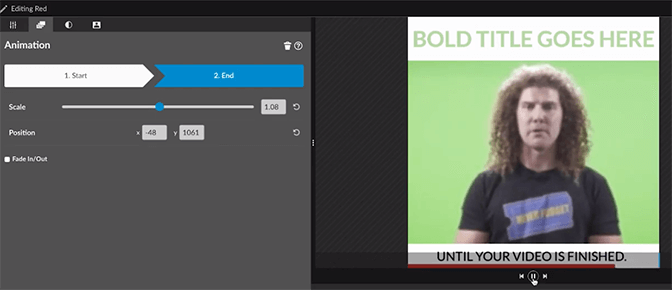 Once all of that is complete, feel free to add additional branding to your video to promote your other social channels. Just drag a text or image clip onto a new track at the top and extend it for the entire video.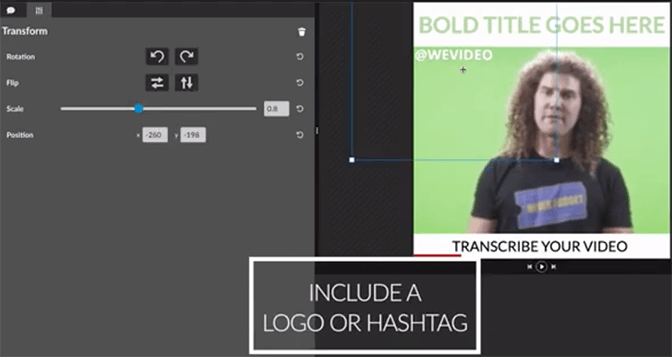 Try this formatting to give your video a professional look and feel. The best part? This template is totally reusable! The next time you want to create a video for your social channels, just clone the project, tweak the video clip, title and closed captions.
Voila! Create this template once and you'll be able to make lots of videos for social media quickly and easily.