As connected devices continue to proliferate our lives, they continue to change the way we consume media, make purchases and interact with brands. Among these changes is the rise of podcasting. Podcasts are a fast-growing medium that your business should be using. Whether you're creating a podcast for your brand or using existing podcasts as an advertising channel, here are five reasons why you should get started today.
1. Your audience is already listening to business podcasts
There are over 73 million active podcast listeners in the U.S alone, contributing to 514 million dollars (and growing!) in podcast ad revenue. Plus, 39% of small business owners, 53% of millennials, and 68% of principals of businesses with revenues over $5 million listen to podcasts. No matter who your target market is, there's a good chance they're already listening to podcasts.
2. Podcasts allow a more specific niche
Unlike radio advertising, podcasts are more effective at targeting individuals based on their interests and preferences. Plus, they aren't confined to a particular geographic location.
For example, a radio station in Sacramento that exclusively talks about pottery probably doesn't appeal to a large enough audience to be sustainable. But a podcast that discusses pottery would be an appropriate niche because anyone, anywhere in the world can listen to it. In fact, there are multiple 5-star rated podcasts that focus exclusively on pottery! If you owned a small pottery business, it would make sense that you publish content to establish authority on the subject, and also leverage that channel to promote your niche-related offerings.
3. Personalization at scale
Your customers have questions and ideally, you have answers. However, answering individual questions with personalization takes time. If your business is growing quickly, you might not have that much time to give. You may also find that many of your customers' questions are similar. You could address frequently asked questions on your website, but directing your customers to an FAQ landing page isn't the most personal approach.
Podcasting is a great way to address frequently asked questions and provide detailed responses at scale, while still maintaining a degree of personalization that comes through your voice.
4. People regularly engage with podcasts at length
Fifty-one percent of the U.S. population listens to podcasts, and 80% listen to all or most of the entire podcast episode, averaging one episode a day. While that doesn't sound like much, consider that the average podcast length is 43 minutes. That's a sizable amount of time that people spend listening to podcasts.
Why, you ask? For one, people can listen to podcasts anywhere and anytime. Also, the vast majority of people listen to podcasts using a mobile smartphone, which means they can listen while driving (26%), at work (12%), at home (48%), at the gym (4%), and plenty of other locations.
Not only are podcast listeners tuning in regularly, but they're also responding to ads, engaging with the podcast brand on social media, and sharing the podcast with their peers. Podcast listeners are more likely than non-listeners to follow brands on social media in addition to being more active on all social media channels in general. Additionally, over half of podcast listeners agree that the ads they hear while listening are relevant, enjoyable and memorable.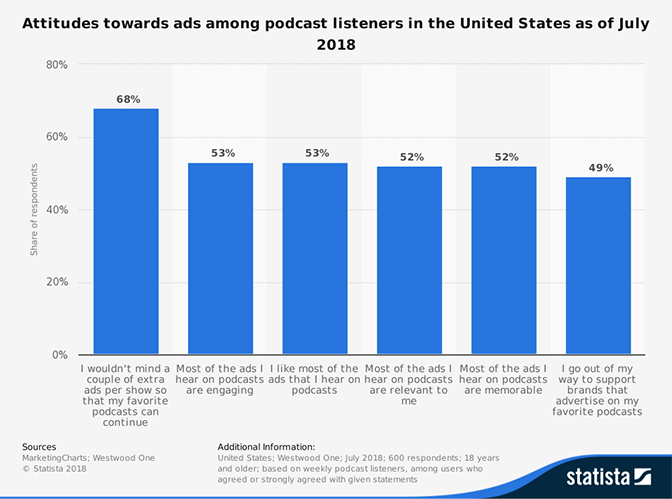 5. Starting a podcast is easy
You might think starting a podcast requires you to have a fancy recording studio, high-end editing software, and the time to dedicate hours on end for multiple takes. But actually, starting a podcast is relatively inexpensive, not that time-consuming, and best of all--it's fun!
To get started with a business podcast, all you need is a microphone and editing software. A decent mic can be purchased off of Amazon for as little as $10. As for the editing software, WeVideo makes it easy to record a podcast. Get started recording your first episode today for free!