Sparked by the visible racism and violence targeted at Black Americans like George Floyd, Breonna Taylor, Elijah McClain, and countless others, the Summer of 2020 brought in a swelling deluge and demand for more equity and critical conversations in schools. Inequitable treatment of students of color is a type of violence because it happens over elongated periods of time. What are schools doing to disrupt systemic inequities in schools?
As we near the end of another calendar year, I have to sit back and ask myself how many more children are sitting in classrooms and schools that are actually seeing them and meeting their academic, social, emotional and individual needs as a result? How many schools actually disrupted the systemic inequities by interrogating policies, practices, procedures, pedagogy and curriculum with a critical and honest lens? On the other hand, how many schools are still talking about equity and waiting for school and community stakeholders to "buy-in" before systemic changes can be made? My guess is the majority of schools who decided to do anything at all fall into the latter category. While we sit and wait for people to "buy into" the notion that everyone deserves their human rights, that all children deserve an equal and fair chance at maximizing their opportunities through school, and that schools are the only place to disrupt cycles of racism and hate, how many more children will fall through the cracks under our watch?
So many educators and leaders in schools are able to discern and name inequitable practices but do not feel strong enough or supported enough by their leaders to advocate for students and for more culturally inclusive environments. The call for cultural nationalism (Delagado, 2001) to empower people of color, allow them to shape their own narratives countering historically told stories of oppressors, to impact their contexts civically are not evident in the accounts of all stakeholders in most school contexts. Instead, what we have is an insistence of educators to be colorblind (the term itself is ableist) and unresponsive to student cultures and identities while finding a reason to justify their explicit inattentiveness. Even though countless educators are versed in best practices on how to meet the needs of their diverse students, they continue to defy the core tenets of culturally relevant teaching at any level.
Several schools cite equity, cultural teaching, and the recognition of cultural and linguistic pluralism on mission statements, school websites and in school improvement goals, but their action falls flat like music notes that never make the melody they were intended to create. Equity work can often look like surface-level work that leads schools to check off boxes or create committees immersed in conversations that rarely ever lead to impactful change. There is a clear dissonance between talk and action. I liken this to a company of firefighters that are called to attend to a life-threatening, hazardous fire. Instead of approaching the burning building with a plan, they stand around and discuss what the best strategy is. As they take their time debating their options, the fire continues to destroy everything in its path. Inequity is that fire; the privilege of many educators makes the seat at the table a comfortable one, eliminating any sense of urgency to do the necessary work. Those who are talking about inequity cannot begin to feel what those who are experiencing it are feeling every day, so what is the rush?
By not acknowledging the realities of how school systems were created to preserve the status quo and actively working to reform those systems, educators continuously deny the existence of racialized power in their daily settings and current contexts. They are not motivated to do what is needed in order to correct that power because oftentimes, it means putting themselves in the line of fire with stakeholders who have interests in preserving the status quo. Sometimes, educators are the cause of inequity and are adamant that the way things have always been done is the only way. It is those educators for whom the equity work is on standby. Educational leaders need to recognize that it is highly unlikely that many of these educators will ever "buy-in," so the only solution is to enforce equity through policy leaving resistors with no platform to deny or delay the process of working toward equity in schools. The universal mindset needs to be that as a society, we can no longer sacrifice any more students to systemic inequity.
The impacts of students not feeling included and empowered are innumerable; one of the most detrimental effects is the limited opportunities for students to develop tools of criticality, civic engagement, and self-advocacy, enabling them to work toward changing their status quo. Students have no way to gain agency without the eradication of oppression through systematic inquiry of the political dimensions of equity in education. This is a direct result of the immersion of those students in single-story misrepresentations of themselves and their capabilities. These limitations continue to be strengthened through the creation and implementation of educational policy, curriculum, teacher training, and all elements related to school, instead of being dismantled. With time, students who are the victims of misrepresentation and marginalization become socialized to believe those stories about themselves reinforcing the idea that time in equity work is of the essence.
Educators making sense of the lived experiences of students is foundational for them to feel like included members of society. Their lived experiences validate who they are and allow them to be seen; a firm grounding in their identity is necessary to build skills of criticality and a critical consciousness that enables them to interrogate the world and act on what they know as scholars and activists. When students feel like their identities are not accepted, the results are often a yearning to belong and assimilation.
Time and again, students who are directly targeted cannot name or call out racism inflicted by teachers and peers because they have been so socialized to view such aggressions (not micro by any means) as a norm. Consequently, students tend to share only parts of themselves perceived by the mainstream as normal creating a sense of duality that is difficult to navigate, one that is unnatural.
Students leaving their cultural and linguistic pluralism at the school door will never lead to a future generation of leaders who have the strong sense of identity, critical consciousness, and social justice that is needed to balance power in our world and detach it from the racial shackles that have historically colonized it. Waiting to elicit the "buy-in" and support of the masses as the system chips away at students' identities with deficit mindsets enables and strengthens those harms. The time to do this work is long overdue.
Below are some action items and mind shifts that need to occur to set the foundations of this work.
Propel equity work forward pushing naysayers into action

. Equity work can no longer

meet people where they are

when their comfort is to be knee-deep in racism. We can no longer wait for educators to move at comfortable paces in equity work because their whiteness is being threatened while People of Color continue to be stripped of their humanity. Educators must identify all the ways inequity thrives and exists in school institutions and actively work to create conduits between those resisting and the school's equity vision and mission. In most cases, students, who are the receivers of inequity, are unable to recognize the disproportionality of opportunities they are afforded; therefore, policies must be enacted to push educators who struggle and resist to do the work forward and hold all educators accountable to providing a maximum opportunity to all students. Gorski (2019) sums this idea poignantly, "Equity is neither optional nor negotiable. This is who we are as a school; these are the values to which we will be held accountable" (pg. 58). Equity work is no longer a luxury; inequity continues to be the detriment of society and schools.

Ask the question of

who is missing from the equity work we are doing

? Even schools that are doing great equity work are limiting their work to students represented in their school demographics or students that are officially considered subgroups on the census. By doing so, entire subgroups of students like Arab students continue to be unseen. It becomes imperative for schools to develop informal mechanisms to identify all disadvantaged or marginalized students to meet their academic, social, emotional, and individual needs (Jaber, 2019). Once students are identified, the next step would be for educators to immerse themselves in those communities so they could better understand the people, the culture, the traditions, etc. beyond stereotypical media representations and then provide those students with "mirrors, windows, and sliding glass doors" that will empower them to see accurate representations of themselves and others (Simms-Bishop, 1990).

Center equity instead of centering culture

. In many places where equity work is happening, we are talking about culture as though it were the differentiating factor between successful and unsuccessful students. "Culture is randomly and regularly used to explain everything . . . from school failure to problems with behavior management and discipline" (Ladson- Billings, 2006, p. 104). By centering culture, schools are omitting all the other factors that cause inequities and are not focusing on the racism that is the root cause of the inequity. Schools are not seeing the whole child and building students' capacities for activism and civic engagement. Focusing on culture alone is inequitable; the equity lens must be used to frame policy, pedagogy, practice, and instruction among other important school-based focuses. The reality is that schools are the only platforms that can disrupt systems of hate and injustice by educating the next generation of leaders.

Amplify and highlight the silenced voices of equity-minded educators

. By giving them the platform, school leadership is sending a clear and direct message that

this is the only path

. Educators then have a choice to 'love it or leave it.'
The time for us to decenter whiteness, to fight against white power and control over everyone else, and to dismantle systems that were created to center whiteness- the time for us to center equity while reimagining and creating systems that center equity is long overdue. We must not let any more students fall through the cracks, not under our watch!
---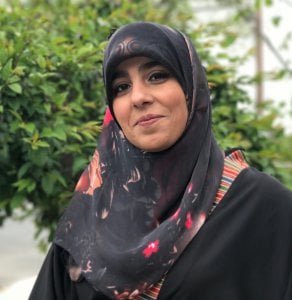 Dr. Sawsan Jaber is an English teacher at East Leyden High School in Franklin Park. She is the founder of Education Unfiltered Consulting and one of the founders of the Arab American Education Network (AAEN) and is a Board Director of Our Voice Alliance (OVA) charged with amplifying the voices of teachers of color to create more equity for students of color. She recently completed her Ph.D. with a focus on inclusion and belonging of students from marginalized communities. Additionally, Sawsan is a National Board Certification candidate. She is an educational leader with twenty years of experience in a variety of settings in the U.S. and abroad. She offers the experience of being a member of a minority group as the daughter of refugees. Follow her on Twitter @SJEducate.