Students at Knightsbridge School, London, recently transported themselves through time and space as they learned about, and virtually experienced, one of London's most famous and formative events—the Great Fire of 1666.
The project was inspired by an exhibit created by the Museum of London called Fire! Fire! commemorating the 300th anniversary of the infamous disaster that paved the way for the modern London landscape.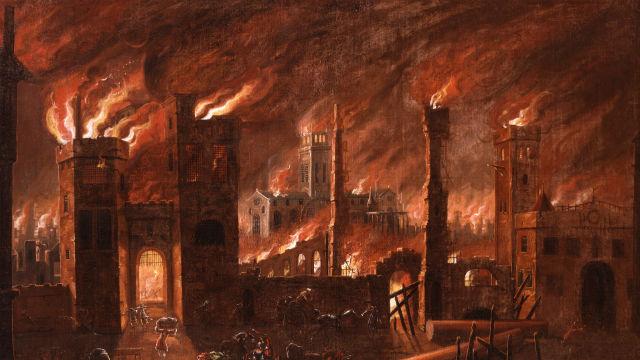 Students at several schools were challenged to contribute an e-project on the theme of the Great Fire. Each school's project was to be a collaborative, group effort that would then be collected in an interactive website that could be shared with the world.
For Knightsbridge students, their experience with WeVideo meant they had an ideal platform to let their imaginations run wild! Nicola Buttigieg, Head of DigiTech & Music Teacher at Knightsbridge School, said, "Having tools like WeVideo available allows pupils to fully realize their imagination. It helps them imagine what life in historic times, or even in fictitious times and place, might have been like."
Buttigieig added, "WeVideo is a great platform for our students because its tools can be accessed on a PC or Mac alike, and each pupil's school work may be revisited in the pupil's own home via the browser, using the same login to access their work as they use at school."
The project ultimately would call upon the talents of students of different ages, ranging from Year 5 through Year 8 (ages 9 thru 13), and result in a remarkable three minute movie. For inspiration, the students looked to a comprehensive landscape of the City the Museum of London had created within the popular environment-building game Minecraft. This asset became the backdrop for the time traveling adventure they created for their WeVideo project.


The different year classes at Knightsbridge each made important contributions. Year 5 classes created animated GIF flames that would make their way into the movie. They also composited PNG window scenes that were presented in galleries on the site. Year 6 classes were inspired to create animated modern fantasy scenes of the Great Fire that can be glimpsed through windows in the film.
Year 8 students then really flexed all of their movie making skills to bring the project together. Their work also included building 3D models of flames in Blender. These were then layered in WeVideo with a 'Dr. Who" style police box to create an immediately recognizable touchpoint and the movies' introductory view into the past.
The students made extensive use of WeVideo's chroma-key green screen effect. This allowed them to layer video of themselves in a way that made them appear to be running and interacting with the historic Minecraft London cityscape as the fire raged.
Year 8 students also provided the music for the film, creating the entire score themselves as part of their Spring Music Technology Certificate program. The recorded music files are used throughout the film to lend dynamic tension to the scenes.
Dave Hicks, Network Manager for Knightsbridge School, points out that, "it is important to remember that "a 'good result' isn't just whether a nice video was produced; it's whether the learning objectives of the lesson were met. This kind of multi-faceted project is valuable because it turns the topic into something students can more easily relate to and think about."
Check out the entire project at here.