Guest blogger Helen Vassiliou is an ESL teacher at Adena Elementary in West Chester, Ohio. She was happy to share with us how her EL students used WeVideo to help new EL students and their parents better assimilate to school life in the U.S.
Sixth grade EL Students at Adena Elementary in West Chester, Ohio wanted to solve a problem that new EL students and their parents face when enrolling in U.S. schools.
Many EL parents that are new to the country have a difficult time assimilating into U.S. schools. They feel disconnected from the school because they do not know what to expect or how to help their child. As enrollment grows, this problem continues to increase.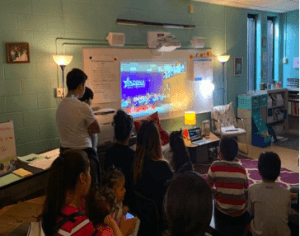 Using the Design Thinking Framework, the students came up with a problem statement they wanted to address: Assimilating into American schools can be difficult for newcomers and their families. We need to help ease their transition to our school.

After brainstorming ways they could address this problem, students decided to create a "Welcome Guide for New Families" using Google Slides to teach parents and their children about all the wonderful things happening in our school. They gave details about how to apply for meal plans, logging on to district tech tools and how to navigate the district webpage for what to do on a snow day. They even introduced staff members and their roles. It was not until the students created the guide, that they realized many of the new parents could not read English or were not literate at all.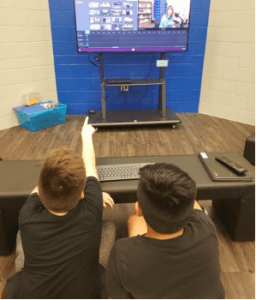 The students decided to create a video for the parents who needed visual support in getting to know our school. Using the district approved WeVideo app, my students began collecting images, video footage and collaborating to make a short informative video that new families could watch to learn about Adena.
They worked together to take pictures, negotiated on what was important for parents and students to know, decided on who they wanted to feature, and added captions to their pictures. They learned how to collaborate, how to change picture placement, how to adjust the speed, listen to each other, respect each other's opinions, add music and edit their video with support from our innovation specialist. The sixth-grade boys got behind the scenes footage of the cafeteria that they were proud of. Their spotlight on our cafeteria staff, custodians, school nurse, and counselor gave relevance to everyone involved in our school.
Students presented their work in September at our first new family night orientation. About 80 parents and their children came to learn and felt more empowered as they left.
When we asked the sixth graders if they would do a video again, they said, "Yes! It was so much fun, and we could express our creativity in a way that helped families like our own. We would like to use this tool again to make more videos about our own learning this time, maybe get famous too."
I presented this project and their video at The Ohio Teachers of English to Speakers of Other Languages Conference in Columbus, Ohio last week in hopes other teachers would use this idea of student agency to make a greater impact for EL families across the state. I am very proud and honored to work with these creative and caring students. Most of the time ELs are seen as only consumers of information, creating with WeVideo allowed them to be innovators and producers.

Their video was uploaded to YouTube and shown multiple times during our parent night using the closed caption features in various languages based on need. Please view their first parent video here: Adena Family Night