This is part 3 of our Personal Narrative and Digital Storytelling quick guide series. Read part 1 and part 2.
Project and media management
Once you have the music, images and narration is time to put it all together. After logging in to your WeVideo account the first thing you'll want to do is create a project.
Next, switch to the media tab and create a folder in your media library with the name of your project. Open the uploader and select the files for your narrative.
You can upload media from different places like Google Drive, Dropbox, Facebook as well as your desktop. You'll then be prompted to choose a folder to store your images, so pick the one with your project's name. Once your media is uploaded, you can find it in the media tab. Here you can rename, sort and review it. This is also a great place to keep your content stored for future projects.
You can sort your content in the editor, which makes storytelling quite easy. If you have an idea of the order you want to display your videos/photos in, name them with a number stamp on the media tab and then, select them all and drop them all at once in a sequence.


Note: folders are exclusive for WeVideo premium accounts.
Edit your personal narrative
Now that your media is organized, its time to edit your narrative. In the video below I explain step-by-step how I created my personal narrative.
Now that you've seen the tutorial let's go over some key tips (as a reference here is a screenshot of my timeline):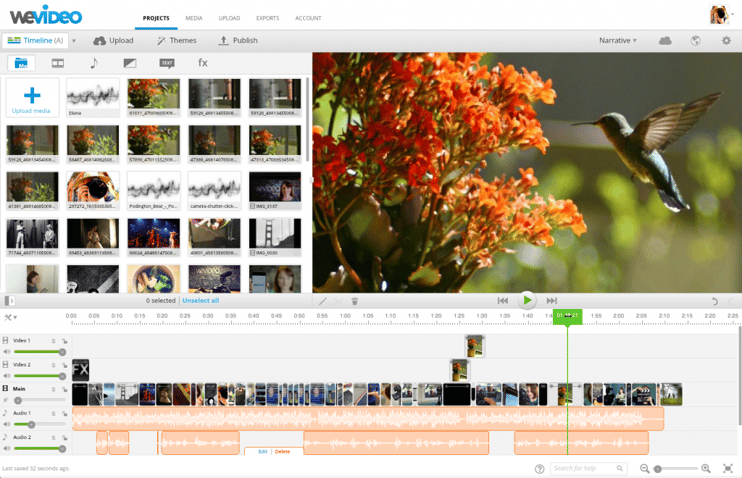 Edit on the main track
In WeVideo, the main track is gapless (as opposed to the other tracks). When editing your personal narrative it is important to create the main sequence in the main track, especially if you want to use transitions since they are only available for the main track. You can use the additional tracks to add text, overlays and supporting images/video.
Add spacers/placeholders
If you are unsure of the images you want to use, or if you want to leave a gap in the main track use a spacer/placeholder in your timeline. You can use one of the solid colors that come pre-loaded in the WeVideo library. Once you find the image or video, that will replace the spacer, add it in the layer above the spacer, size the clip to match the spacer and drop it in the main layer. Then erase the spacer. This will ensure your story's timing is not changed.
Use transitions sparingly
Transitions should be used with a purpose. Use them to make a point or to drive intrigue to your content. A good rule of thumb is to stick with the traditional ones (crossfade, dip to white/black). These look clean and subtle and will ensure your video looks put together. Please note that transitions remove a few seconds of each clip on either side to create the effect. You can adjust this by extending the clips or shortening the transition.
Check volume and pacing
One of the biggest things to keep in mind is that the audience is usually attracted by the visuals first, but what keeps them engaged in the story is the narration. The volume and pacing of your story are the final and most important things that you should check before you publish your video.
Try listening to your video with headphones and speakers to see if everything is properly balanced. If needed, turn the volume of the music down and your narration up.
Share your personal narrative
After all the work you have put into the story, it's time to share it with friends and family. With WeVideo, you can easily share your video link via social channels or even download your final video.
I hope this quick guide helps you create your first personal narrative. There is nothing more powerful than sharing your voice and vision with others so don't be afraid and start editing! We'd love to see what you create!